Stepping into your newly built home can feel like a dream come true. However, several behind-the-scenes actions need to happen first. You've heard that building a home can be long and involved — sometimes painfully so. If your
home-building
project takes too long, it could create difficulty or hardship for your family. 
Building a home involves several moving parts. At any point in the process, something can happen that affects the entire timeline. An experienced
home builder
knows how to anticipate and avoid delays, but how can you ensure you are hiring the right person for the job? 
At JB Design & Remodeling, we put the focus back on exceptional service, ensuring you enjoy building your home. Building your
custom home
can — and should be — an exciting and rewarding experience. At JB Design & Remodeling, we know how to make building your
dream home
the enjoyable experience it's supposed to be! 
Are you wondering how long it takes to build a house? In this article, we'll tell you about the timeframe for building a house, and go in-depth into what contributes to the building time.  
How Long Does it Take to Build a House?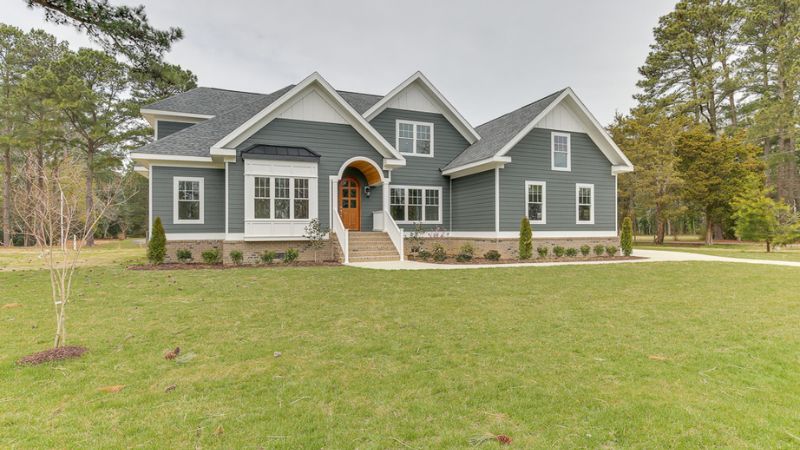 According to a
2019
U.S. Census Bureau
report
, the
average time
for
new home construction
is seven to twelve months to build a home. Some kinds of homes take longer to build than others.
Custom homes
, for example, can take far longer to construct than
built-for-sale homes
(also called
tract or spec homes
). To build a
custom home
, you will need to acquire
building permits
, hire a contractor, and in most cases work with an engineer or architect to sign off on your building plans. You'll need to select the location of your
new home
and purchase the land. If the land is raw (undeveloped, without utility lines and sewer, etc), your contractor will need to lay the groundwork for your new
custom home
.
All this work
takes time
! The
amount of time
it takes depends on how well you've planned for your
new construction
home, how well you've communicated with your contractor, and the quality of your
home builder
. The COVID-19 pandemic has also made the
home building process
slower by causing supply chain issues, labor
shortages
, and increasing building demand.
What Factors Affect the Home Building Timeline? 
In addition to everything mentioned above, several other factors can slow down or speed up the
home building
and
home buying
process. From engaging in
preconstruction
planning to selecting the right
general contractor
, you can make the
home building
and
home design
process much smoother and simpler.
Environmental Conditions
Inclement weather may affect the
home building process
. Some types of weather can slow construction, others can stop construction altogether, for a while. Some of the worst types of weather include floods, storms, snow, and high winds. Some of this weather is anticipated, and some of it is not. Your
home builder
may have built in some extra time for inclement weather into their
home building timeline
, but anything that prevents your builder from reaching the
building site
to engage in
actual construction
can lead to a longer delay.
The Home's Location
Rural areas
often have raw land, so you'll need to establish utilities first. It can take longer to build on a hilly lot. In fact, building on a hilly lot can increase the
length of time
to build the home by double the amount. If you are planning to construct your home on a hillside, plan for your
home construction process
to take longer. Your builder can give you an estimate.
Permits and Authorization
Obtaining the
building permits
and approvals to build your home is often a time-consuming process and is a very common cause of delays. In fact, it can take between two to four months to get your permit issues sorted. Your builder will be able to give you a rough estimate of how long this will take, but permitting varies from one community to the next. In addition, permitting can take longer at some times of year than others. Some natural disasters can also cause the permitting process to slow down, as many
homeowners
flock to rebuild.
Worker Availability 
Several steps in the
construction process
require specialized
subcontractors
. Due to high demand, some
subcontractors
may not be available, especially during the summer.
The Level of Detail and Customization
The more custom your
home design
, the longer it will take to construct. A tract or spec home is a design that's been tried before, while a
custom home design
has never been built. It takes longer to work out the kinks in a
custom home
.
The Quality of Your Contractor
An experienced
home builder
can resolve issues promptly and can build your home faster than someone new to the trade. You can avoid problems with
new home builders
by asking potential
general contractors
about their experience before hiring.
What Are the Steps to Building a House? 
While each
home-building process
is unique, the general steps are similar for most homes. The
construction time
here is an example timeline for a
built-for-sale home
if there are few or no process delays.
It is important to note that problems may arise at any point in the
home buying
process, which may cause variability in the timeline. If you're buying a
new construction home that's already finished, you may be working with a realtor to complete the home sale. A realtor can help you avoid delays.
Also, note that there is more flexibility in the later stages of the
home-building process
. Some people may do the later steps in a different order.
Week 1: Prepping the Homesite
Prepping the home site involves removing trees and rocks, leveling the ground, and ensuring proper drainage. This step ensures that your home will be built on solid soil that can support the future structure. Good drainage is essential for any structure. Without properly draining soil for the land where your home will be built, your future home could face issues like soil heaving from freeze/thaw cycles and, ultimately, foundation problems.
Weeks 2-3: Pouring the Foundation
Once the homesite is prepared, it is time to lay the foundation for the house. Your builder will start by installing the
footings
, which serve as the base of the house and distributes weight over the soil, which prevents settling. During the planning stages, you'll have to choose whether you want a slab foundation or a crawlspace. There are advantages to both, but your builder can help you decide which one is better for you.
The
footing
comes first, followed by the foundation, which needs to be poured, set, and dried. Doing this requires dry weather, so some delays are possible, depending on the time of year. Concrete takes a few weeks to cure before the rest of the work can begin. The foundation also needs to be inspected to ensure the work was done correctly.
Weeks 4-5: Building The Framework
The framework is the skeleton of your home – it's the studs and framing that hold up the rest of your house. At this point, you'll start to see the exterior walls, roof trusses, and ceilings going up. Once this work is done, the framework must be inspected before the project can proceed to the next stage.
Weeks 6-7: Setting Up Plumbing, Wiring, and Ventilation
This is when technicians come to install plumbing, wiring, and a furnace and air conditioner in your home. This work is usually done by
subcontractors
unless your builder has some on staff. Your builder will make arrangements for these installations to be performed.
Weeks 7-8: Creating Insulation and Drywall
Drywall
and insulation are installed once the
HVAC
is finished. Insulation can take many forms including spray foam, concrete, foam board, and fiberglass. It's important to install insulation that has the highest R-value. The higher the R-value, the better the insulation will be at keeping your home cool.
Weeks 9-11: Setting up the Interior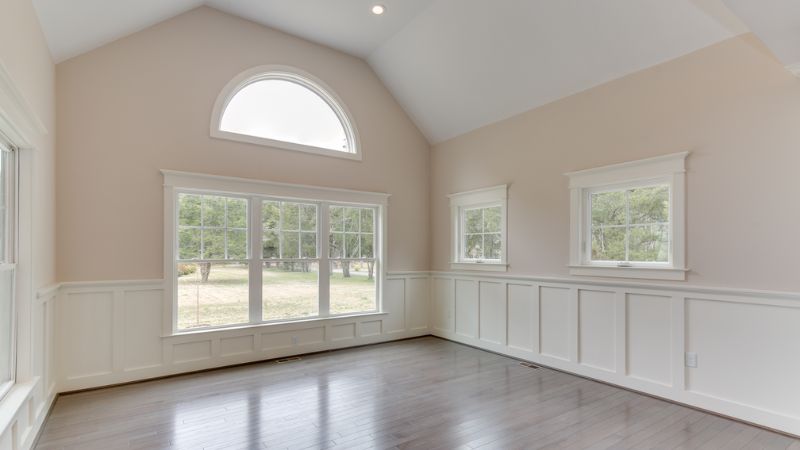 At this stage, your home is painted, and flooring is installed. Finishings like cabinets,
countertops
, molding, trim, interior doors, fireplace mantles,
faucets
, bathroom vanities, and other features are installed. Some materials take longer than others, and not everything is installed at once, so this stage can take a while. If you're placing hardwood or carpeting, your
home builder
may wait a while before installing these features. Laying down these types of flooring too soon can lead to damage.
Weeks 12-13 Adding Exterior Details
Up until this point, your home has had no siding. Now, your contractor will add brickwork, stonework, siding, or whatever material you selected for your
custom home
.
Week 14: Installing Appliances and Light Fixtures
Toward the end of the
home construction
, workers install fixtures, appliances, and more. This is when you'll see several
subcontractors
(
plumbers
,
electricians
,
HVAC
professionals) inside the
new home
.
Weeks 15: Paving Driveways and Walkways
Heavy contractor equipment and oversized vehicles can damage a new driveway, so many builders wait to install the driveway near the end. The contractors will level the ground and install the paving material.
Week 16: Cleaning the House
Building creates large amounts of dust, so your house will need a thorough cleaning! This ensures that your home is ready to
move in
when the time comes.
Week 17: Landscaping 
Your home's lawn will look a little bare until the
landscaping
is completed. At this stage, the contractor team will install grass, shrubs, trees, and more.
Week 18: Inspection
Your
new home
will need an inspection from a permitting officer to ensure that it is up to code. Once the inspector completes this process and determines that your home is ready to
move in
, they'll issue a certificate.
Week 19: Completing the Final Walkthrough
During the
final inspection
, you'll have an opportunity to voice any concerns you may have. Test everything — lights, appliances, and more — to ensure that your home is
move-in
ready. When you find objects that need repair, talk to your contractor.
Week 20: Closing
During the closing, you'll sign all documents and finalize the paperwork. Once this is complete, you'll be able to
move in
!
How Can I Avoid Delays When Building My New Home? 
Have Your Finances and Budget Together 
Know how much you can afford to spend, and communicate this budget with your builder. Your contractor will use this as a guide as they design and plan your home. Work with a builder that communicates changes to the cost of the project through
change orders
.
Create a Plan
Planning by far is the most important way to shorten the
building time frame
. All the components of building a
new house
are interrelated, so if you plan the build, you can reduce the chance of delays and mistakes.
One example of this: did you know that the tile you select for your bathroom could influence the placement of your bathroom pipes? The pipes are put in place before the foundation is built — which means that a change to your bathroom tiles could throw off your project and create delays.
Once you have a
floor plan
and a plan in place for your
new house
, your contractor will create a schedule — pay attention to it! Once work begins, making changes midway through can cost time and money.
Research Options Ahead of Time
Take time to find the right Hampton Roads builder before beginning your project. Hiring a quality contractor can speed the process along. Good builders have expertise that can prevent delays. When hiring the right builder, look for:
Quality work — look at their portfolio!
A good reputation in the community — check their references.
Good communication skills: Meet with them in advance to ask all your questions, explain your project and be sure everyone is on the same page.
Keep in mind that you can take a few months just to find the right builder, so start looking a few months in advance.
Stick With Your Decisions
Once you've made a plan, stick to it!
Change orders
and
upgrades
made at the
last minute
could cause delays, especially if all the materials have already been ordered and delivered. You could end up waiting longer and paying more than if you had just made the decision during the planning process.
Communicate Clearly
Maintaining good communication throughout the
home buying
process is essential. Check in with your builders and contractors throughout the
home construction
. The contract is an important communication tool — use it to outline expectations ahead of time and avoid disputes.
Want to know more about building a beautiful home in Hampton Roads? Contact JB Design & Remodeling . Learn how we have created beautiful
custom homes
for over a decade, and how we can do the same for you!