When you imagine your dream home, do you picture a grandiose structure, or is a cozy cottage, Victorian or modern farmhouse with a wrap-around porch, or Tudor country cottage more your speed? Are you looking for a place to live, or do you just want a vacation home? Knowing the type of home that appeals to you is vital when designing your perfect real estate project. That's why the professionals at JB Design & Remodeling are here. We have experience with many real estate types, new home designs, architectural styles, interior design and home decor. We will be there every step, from floor plans to full house designs!
What Is a Cottage Style Home?
Cottage style homes are a specific type of architectural design often portrayed in storybooks or that many think of as a charming cottage retreat or vacation getaway home. These house designs can have many different features and varieties to suit the needs of a wide range of homeowners' desires. No longer do they require a classic old-world approach.
Many cottage designs and cottage-style homes these days can be very modern. Whether you're looking for a small house as a guest home on your property or you want a small cottage for holiday trips, cottage house plans may fit the bill. Let's dive a bit deeper into the types of floor plans for this style.
What Are the Various Types of Cottage House Plans?
There is a wide range of takes on what cottage style real estate looks like. It can have features like breakfast nooks, open floor plans with a dining room, kitchen, and living room as one large space, and a wide range of specific designs.
Coastal Design Style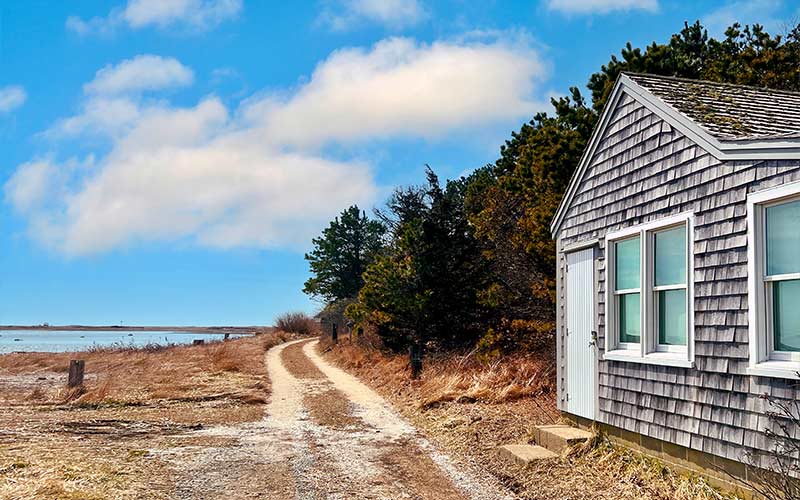 Coastal design styles incorporate the classic Cape Cod or Craftsman style home. These often include a broad front porch that spans the entire cottage width and is built to stand up to salt air and breezes using materials and paint that are made for oceanfront or waterfront-adjacent spaces. Many also feature a screened porch for relaxing on lazy afternoons.
English Cottage Design
English cottages, sometimes called Tudor homes, are what many people consider iconic and quintessential storybook homes. These may have slate shingles for a classic look, though more modern designs may take other approaches. They conjure images of country homes with angles and wood accents, with small front porches, hedgerows, and gardens surrounded by groves of trees. Of course, the yard landscaping is up to you, but these are the type of homes many people imagine when they think of a classic cottage.
Country Cottages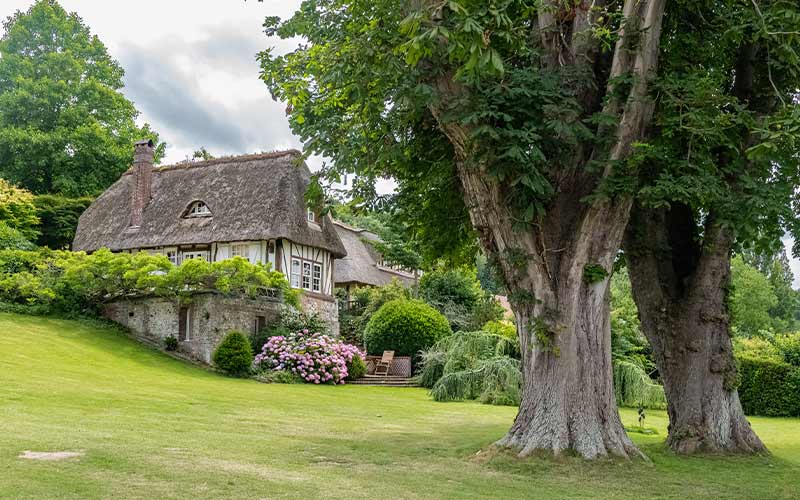 Country cottages embody a homey and rustic community sensibility. They often use interior design features like exposed wood, brick, stone, hardwood floors, and an airy atmosphere. They can be old-world with dark wood and earth tones, or they can be light and airy. Many modern cottage designs incorporate an open, bright living space with modern décor.
French Country Cottage Design
French cottages embody provençal, elegant, romantic, and timeless features with old-world styling, elaborate French décor inside, and a sense of escape to the rolling hills of the European countryside. They may have an ornate front door and can be of any size, though the vast majority still hew to the 1,000 sq ft to 1,200 sq ft range in floor plans. Whatever their square feet, they tend to exude plenty of luxury and class.
Other Cottage Styles
Other cottage styles you might see trending include Southern-style cottages with shaded and screened back porches, country blue decor, hardwood floors, and natural wood furniture. Vintage retro-inspired homes are also popular right now, offering interior views that are just as lovely as the exterior for a truly timeless design.
If you're unsure of which type of cottage-style house you want, just talk to our team. We know a thing or two when it comes to identifying your favorite homes that you've seen on HGTV.
What Are Key Features of a Cottage Style Home?
Cottage-style homes have key features, and even the larger ones tend to feature a smaller footprint with less square footage. Many of the features you might find are tailored to the homeowner's specific tastes, from simple or fancy front doors to built-in shelving and more. Cottage homes tend to feature an asymmetrical design with a prominent chimney.
Stucco Walls
Stucco walls are an iconic feature of cottage homes. Stucco is a type of siding based on cement, which adds a textured finish to walls. It comes in a wide range of colors and textures and can be either a 3-coat system or a 1-coat system depending on the environment, whether the wall is exterior or interior, and the needs and preferences of the homeowner.
Balconies and Porches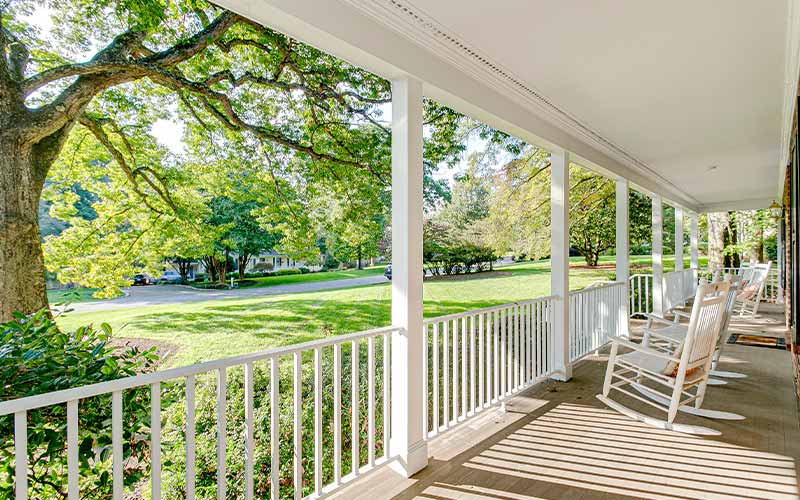 Only larger cottage-style homes incorporate balconies. For the most part, the architectural style of a cottage home sees a one-story or one-and-a-half-story design under 1,200 sq ft, with the latter potentially featuring a balcony. Porches, however, are a staple of these homes, whether it is a large wrap-around porch or a smaller patio covering the front door. You might have a screened porch or an open porch.
Gabled Roofs and Dormers
Gabled roofs and dormers are other iconic features of cottage-style houses. Gables are high, angular sections of wall between sections of intersecting roof pitches. The style of gable used depends on the structural design of the home and depends on the climate, materials used, and aesthetic preferences of the homeowner.
Dormers are sort of like gabled windows. They have angled roof sections that protrude from the house's pitched roof and cover windows. They are often used to increase loft space and add window openings to a roof pane. Usually, dormers and gables are found together and are a staple of cottage houses.
Bay Windows
Bay windows are a popular feature in many types of homes, cottage homes included. Most cottage homes feature oversized bay windows that let in maximum natural light. This helps to offset the shaded design offered by covered wrap-around porches and gables. They also feature a stunning aesthetic that is iconic to this home style.
What to Expect on the Inside of a Cottage Style Home?
The interior design of a cottage-style home is up to the homeowner's tastes, but floor plans are usually designed to deliver a cozy feel with smaller rooms. Again, these homes often have full footprints that don't exceed 1,000 sq ft to 1,200 sq ft. Anything else is a very large cottage.
Modern cottages, however, have begun to eschew small rooms and take full advantage of the sq ft available by turning to an open floor plan that offers a natural look, which may feature anything from exposed beams and brickwork for a country feel or a light, airy, and white ultramodern interior.
The options are endless when you are designing your own real estate. It's possible to have a home that on the outside appears to be from the classic English countryside while inside, it features sleek, modern appliances and a modern interior design.
If you're a Hampton Roads resident in Virginia Beach, Norfolk, or Chesapeake, JB Design can help you design the country cottage of your dreams. Get in touch through our contact form or call 757-517-2222 today.
What Are the Advantages and Disadvantages of a Cottage Style Home?
One advantage of a cottage home is that the sq ft you will have is smaller. This makes it ideal for a cozy getaway home or even a primary residence if you are looking to downsize your life. It offers a quaint and classy feel and has a homey and welcoming vibe. There's a good reason why these homes are often trending in real estate searches. If you go for a cottage home with an open floor plan, you may find more usable space despite the smaller sq ft of space.
Cottages are also eminently capable of personalization so that you can make the space your own. The smaller physical footprint, incidentally, can also result in a smaller carbon footprint, so if going green is something you value, a cottage home can be a great option.
There are, of course, drawbacks to cottage living as well. They are traditionally located in remote areas. Depending on your preferences, this can be a benefit or a drawback. It offers tons of privacy, but may not be close to many amenities. Still, modern cottages like the Craftsman and Cape Cod design are found in coastal areas near small towns with scenic shoreline views (perfect for Hampton Roads cities). If you prefer a large house with lots of large rooms and a multi-story design, a cottage home may not be the design for you. In the end, it comes down to your preference.
Do Your Tastes Lean Towards a Cottage Design?
If a smaller footprint, classic and elegant design, and a simpler way of life appeal to you, cottage-style homes may be the ideal option for your new construction house. At JB Design Homes, we are ready to help you design cottage house plans to create the most charming cottage you could imagine. We are here to build your custom dream home.
When you're ready, let's sit down and discuss the average timeline for building a house and work out a plan to erect your new real estate. We will discuss the best features for location, environmental conditions, customizations you desire, and materials availability. We will schedule your construction, help you secure the necessary permits and authorization, and go over the steps. We are confident that you will fall in love with your new Virginia Beach, Norfolk, or Chesapeake home.
Your dream home is just a call away! Get in touch with us today to get started or for more information. Just give us a call at 757-517-2222, or just fill out our easy contact form, and one of our service representatives will get in touch with you!