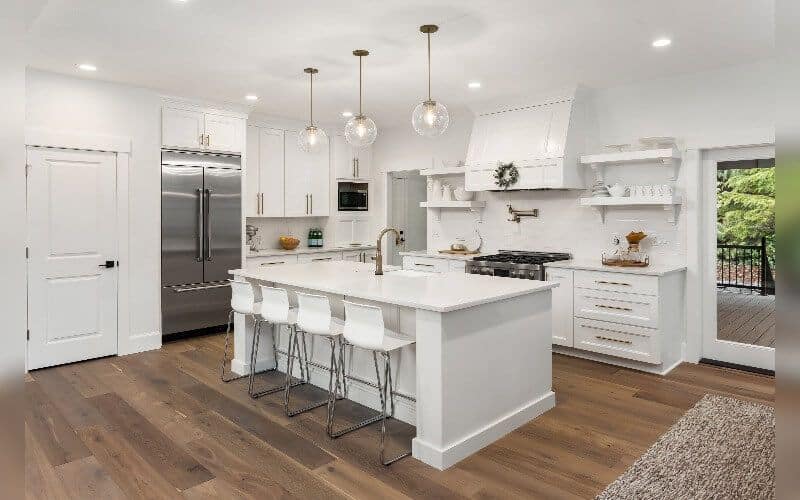 All-white kitchens have stood the test of time, and they look sleek and modern while exuding a classic vibe. These kitchens certainly have their unique allure, but they're not exactly still on trend the same way they used to be with Hampton Roads homeowners. If you're looking for an upgrade or want to change the aesthetics of your kitchen to reflect your current style, now is an excellent time for a kitchen remodel.
JB Design can help you
transform your kitchen into the kitchen of your dreams.
With our collection of the latest trends for all-white kitchen updates, you can take your kitchen to the next level with help from experienced interior designers. Take a look at some of the latest kitchen design trends, and discover what our Virginia Beach team can help create for you.
Benefits of All-White Kitchens
The benefits of all-white kitchens are numerous and almost always immediately noticeable.
One of the best features of an all-white kitchen is how spacious it feels. The white coloring makes the entire kitchen feel bigger and brighter compared to what you might experience with other colors and designs, and this is especially useful with a small kitchen.
In addition to appearing grander in size, all-white kitchens are neutral overall, making them easy to pair with whatever kinds of appliances you want. White goes well with stainless steel, black, and virtually any other finish you can imagine. This leaves plenty of room for creativity when it comes to the small details in your kitchen. Plus, the sleek aesthetic from the white coloring adds an extra bit of flair to the overall look.
Drawbacks of All-White Kitchens
All-white kitchens aren't as popular as they used to be, but the trend isn't completely disappearing. An all-white kitchen is timeless, thanks to the benefits mentioned above, but
you'll need to ensure yours is done right to keep up with the latest trends.
While you can always revitalize your kitchen into something completely different, making key updates to an all-white kitchen can still be a clever strategy for making the most of your existing kitchen space and capturing that sleek and timeless aesthetic.
White Kitchen Ideas to Update Your Space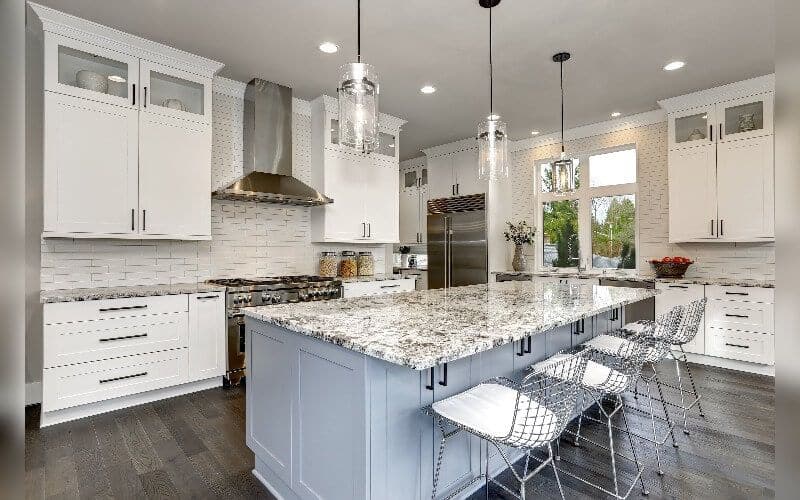 There are quite a few upgrades you can implement in your all-white kitchen to keep it stylish and unique even with the changing times. These include lighting, materials, textures, and much more. Here are some of our favorite white kitchen ideas to update your space to something more unique and refined while maintaining stunning style.
Quartz Countertops
Upgrading your countertops alone can significantly impact your kitchen's overall aesthetic. You just need to consider the material and style. For an all-white kitchen, nothing offers an appearance quite like quartz. This unique material adds a stylish white coloring to your countertops while also functionally serving as a surface for kitchen activities.
While quartz countertops alone are impressive, you can take them to the next level with a waterfall edge. This edge makes the countertop appear as if it's flowing down to the floor. Instead of coming to an end at the edge like a butcher-block countertop, the material extends downward to the floor, making it appear as if it's flowing from the countertop like a waterfall, hence the name. In addition to the appearance, having quartz run down the side of counters makes it easier to clean and less susceptible to accidental bangs and bumps.
Using quartz also adds some extra protection to your countertop. Unlike granite, another popular countertop material, quartz is not as susceptible to sagging, bending, cracking, or stains to the same degree that granite countertops are. Note that quartz can accomplish this despite being made from more than 90 percent natural stone. Plus, quartz can easily handle a change in angle, which is why it's popular for waterfall edges.
Enhanced Tiles
Tile plays an essential role in just about any kitchen, whether you're
looking at the backsplash
or the floor. White is a stunning color for tile, no matter where you use it. Floor design can be especially impactful based on the kind of tile used. A subtle pale patterned tile can make your kitchen look welcoming and calm, while a bolder pattern tends to make it stand out. Of course, the proper answer for your kitchen depends on the atmosphere you want to cultivate in your cooking space.
If tiled floors don't fit your vision,
you may want to consider pale wood flooring.
This flooring can still support the white aesthetic while offering something a bit more atypical to the overall design. If you opt for white tile floors, you can complement them with a dark wood floor accent to create stylish contrast in the overall design.
A kitchen's backsplash is typically among the first things any visitor to your kitchen will see,
so its tiles must capture the kind of aesthetic you're going for. White subway tile backsplashes are popular, and they can look incredible when paired with the right kitchen style. Adding a colored or dark grout to an otherwise white tiled backsplash can add some depth and texture to the overall aesthetic. Of course, you may be more interested in integrating different colors into the tiles, but colorizing the grout tends to create a sleeker appearance.
Glass-Front Cabinetry and Wood Shelving
Regarding cabinetry and shelving, you have quite a few options for upgrading your all-white kitchen. One of the most iconic designs currently utilizes glass-front cabinets rather than standard white kitchen cabinets. This is handy if you want to show that even your dishware matches the overall aesthetic of your kitchen space. An all-white kitchen with glass-front cabinets showcasing a collection of pearly white dishes and sparkling clear glasses adds an aura of sophistication to your overall aesthetic.
One of the most common feelings people try to evoke in their kitchen is a sense of welcome, which some shelving designs help convey to anyone who visits. Chunky wood shelving is particularly adept at conveying that warm and welcoming feeling, especially when combined with glass-front cabinets. Plus, a medium-toned wood can pair well with a white kitchen outfitted with gold appliances for a warm, expensive look.
Texture Upgrades
Adding some texture upgrades to your all-white kitchen can introduce plenty of alluring contrast to the overall design while still allowing you to maintain the white aesthetic. Marble is often used for extra texture,
whether on the countertop
or the backsplash wall. Marble texture accents are often a good way to merge classic and modern kitchen styles with an all-white aesthetic.
White coloring can come in many forms, so you can utilize different textures while maintaining the color. Pale or white wood grain is popular for flooring and cabinetry in all-white kitchens. You may also be interested in white stone backsplashes or even white-painted brick for the ultimate combination of classic style with a modern twist. White stone and brick are especially striking in a farmhouse kitchen.
A stove range hood can tie your kitchen together in several ways. If your stove is up against the wall, the hood could blend in seamlessly with the architecture. On the other hand, if your stove is on a kitchen island, the stove hood could descend from the ceiling above it for a more modern and sleek aesthetic. Note that you may want to mix matte and shiny finishes when merging your stove hood with the rest of your all-white kitchen. That kind of contrast can be striking and alluring.
Metal Hardware Accents
An all-white kitchen is certainly a sight to behold in its own right, but you can make the color dramatically stand out if you contrast it with accented metal hardware. You can extend this metal accenting to the legs of barstools or chairs for a cohesive look. While many different kinds of metal coloring go well with white, three tend to stand out as the most popular.
Brass cabinet hardware, knobs, and faucets pair well with white coloring and clear cabinet doors. If you're looking for something more upscale, you may prefer rose-gold finishes on your hardware. Not only does it appear more sophisticated, but it brings warmth to your kitchen that makes it feel particularly welcoming. Finally, gold accents are a classic option for creating an elegant, refined aesthetic in your all-white kitchen.
Statement Lighting
Lighting is among the most vital aspects of any room, and the kitchen is no exception. Light fixtures are among the best ways to make a statement with your kitchen's overall design.
Statement lighting can serve as a centerpiece for your kitchen
while leaving the rest of the design plenty of room to shine.
While adding texture to your kitchen's surfaces, you may also consider doing the same to the lighting. Pendant lighting is quite popular, as it not only lets you add a wide variety of styles to your kitchen, but these lights also add quite a bit of illumination to the area, ensuring that your kitchen is a welcoming and warm environment.
Breathe New Life Into Your Kitchen With These Kitchen Trends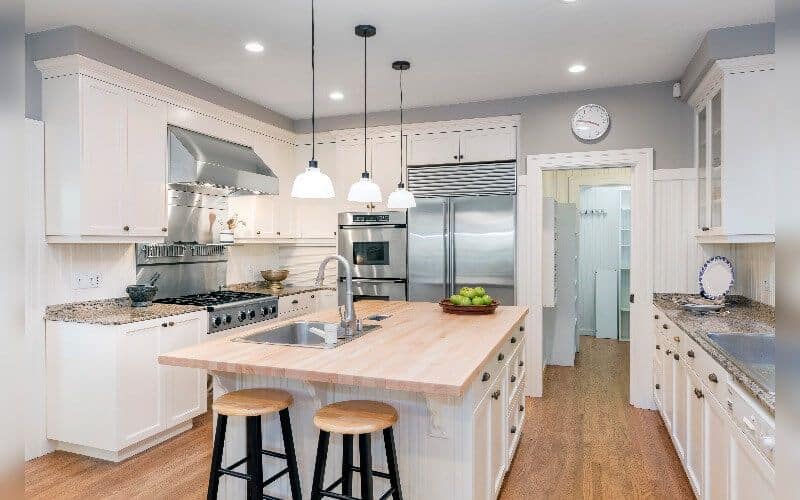 Many people have grown tired of the washed-out and minimalist aesthetic that comes with all-white kitchen designs. Fortunately, you'll find no shortage of ways to make your
kitchen stand out
by updating your setup with the latest trends. Here are a few trends we've had our eyes on.
Add a Pop of Color to Your Kitchen
Adding color to an all-white kitchen may seem like an obvious way to spice up your all-white kitchen, but there is a bit more nuance required if you want something truly remarkable. When you think about adding color, consider opting for non-white materials instead of vibrant paint colors. This includes copper for metal fixtures or colorful marble for your countertops. Even porcelain or terrazzo counters can help your kitchen develop a unique identity.
If you have any natural wood surfaces in your kitchen, consider them an opportunity to add a splash of color. Dark wood tones are perfect for white kitchens, creating a powerful and alluring contrast. The most popular way to create this contrast is with dark hardwood flooring. You can also incorporate jewel tones into your countertops or backsplash for some more vibrant and bold colors.
Convert to Open Shelving Kitchen Storage
White cabinets are standard in an all-white kitchen, but you may want to consider removing some cabinets altogether. You won't have to worry about losing any storage space if you replace them with open shelving. Open shelving adds color to your kitchen (especially if you use the shelves for wood accent colorings), and you can show off some of your colorful kitchen items instead of hiding them behind closed doors.
Open shelving is growing increasingly popular, but it can be particularly alluring to use it in conjunction with a colorful backsplash. The openness of the design combined with the colors of a vibrant backsplash creates a fun environment for your kitchen that the washed-out all-white aesthetic simply cannot replicate.
Consider Sculptural Lighting
It's important to think of lighting as more than a way to keep your kitchen illuminated. While that's undoubtedly important, you also need to consider the lights' appearance. With the wide variety of options available, you can use your lights as an opportunity to add more artistic aspects to your kitchen.
If you implement
sculptural lighting in your kitchen
, your lights will become a powerful focal point and stunning design feature. Instead of being purely practical, the lights will double as integral design pieces, especially in open kitchens. Keep in mind that these designs can go far beyond simple chandeliers. Sculptural lighting is like a functional art piece that makes your kitchen one of a kind.
Implement New Kitchen Appliance Styles
The appliances in your kitchen are an integral part of the overall design, and your kitchen wouldn't be the same without them. Given their necessity, you should take advantage of their position and implement the latest trendy styles. The days of black appliances have passed as new finishes gain more and more popularity.
If you want your appliances to keep up with the latest trends, consider getting them in oil-rubbed bronze. Nickel is also quite popular. The most modern and sleek appliance aesthetic is chrome, but you can experiment with matte and shiny surfaces among these popular designs to find the best fit for your unique kitchen.
Customize Your White Kitchen With JB Design & Remodeling
Taking your Hampton Roads kitchen to the next level is easy when you have home design experts on your side. That's exactly what we offer at JB Design & Remodeling. Our team will work with you to create custom designs that fit your unique vision for the kitchen of your dreams. While we have plenty of ideas to inspire you, you get to be the ultimate author of your future kitchen and its design choices. You don't even have to make an appointment, as we're happy to accept walk-ins.
Make your kitchen one of a kind today by stopping by our Virginia Beach showroom, contacting our team at
757-517-2222
, or filling out our
contact form online
.