When you enter your kitchen, you should feel welcome and that the space is full of possibilities. A cramped or cluttered feeling can get in the way of what makes kitchens so special in the first place. Your
kitchen counters
could be overrun with items while your cabinets are already at capacity. When you're facing a situation like this, it may be time for a
declutter
and
remodel
.
Modernizing and refreshing your space can make a big impact on the overall aesthetic and functionality of your kitchen, and custom
storage solutions
can go even further toward creating your dream kitchen. We've compiled a list of
kitchen organization hacks
that can take your kitchen to the next level. Take a look at some of our favorite
kitchen organization ideas
, and discover how our team in Virginia Beach can upgrade your kitchen.
Extend Cabinets to the Ceiling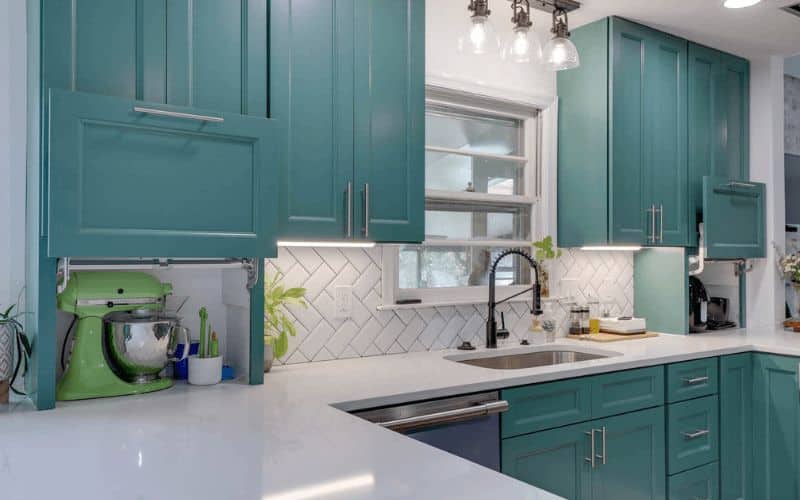 While you may not think to extend cabinets to add shelving that you can't reach, it can improve your overall kitchen aesthetic, especially in a
small kitchen
. The upper shelves will be harder to reach, but that makes them the perfect place to store the items in your kitchen that you don't use quite as often and may be taking up valuable
pantry storage
. When you do need to use these items, simply bring out a collapsible step stool, and you'll be able to easily reach anything you need. 
Extending your
kitchen cabinets
to the ceiling will also eliminate the dusty space that's typically on top of more traditionally sized cabinets, helping prevent dust from blowing down off the top. Because you will probably need a step stool to reach the top for dusting anyway, it's more efficient to extend the cabinets and use higher shelving for the items that you don't use as much.
Rollout Cabinets
With standard cabinets, you may struggle to reach items located closer to the back of the shelf. Alternatively, you may find yourself forced to arrange items in a cabinet in such a way that every item is reachable. The addition of rollout cabinets can make your
storage solutions
much more efficient, letting you optimize for space while still making the items accessible.
Think about how you would store plates in your
cabinet organization
. Most people simply stack them on top of each other on a single shelf in ordinary cabinets. With rollout cabinets with plate holders, you could orient them sideways, allowing much more room for plates on a single shelf. Because the shelf can roll out, you can easily access the ones stored in the back, too.
Slide-Out Shelves Inside Cabinets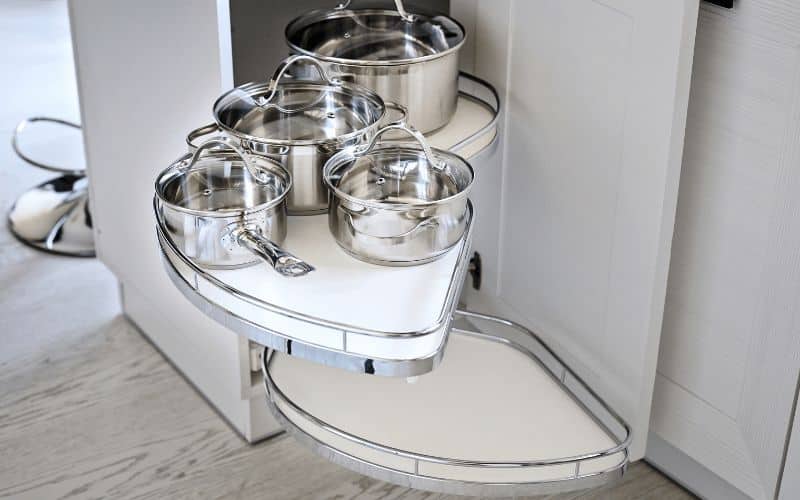 In addition to rollout cabinets, slide-out shelves can help with
kitchen storage
. By implementing slide-out shelves inside cabinets, you are essentially creating another drawer, allowing you to easily access all the items stored within even if they're in a
small space
at the back of the shelf.
The central difference between rollout cabinets and slide-out shelves is that rollout cabinets utilize wheels in the mechanics of how they work. Meanwhile, slide-out shelves simply slide like a traditional drawer. Rollout cabinets can take up more room and be more expensive, so slide-out shelves are a valuable alternative if you're trying to trim your
makeover
budget as much as possible. 
Custom Cabinet Inserts for Bulky Appliances
When you implement custom cabinet inserts, storing bulky appliances is much easier. Typically, you wouldn't store bulky appliances in
cabinet spaces
that are hard to reach or deep because getting them out can be tricky. Custom cabinet inserts, however, make accessibility easy and put the
kitchen gadgets
you need within reach.
Counter space
is valuable real estate in any kitchen, and appliances can take up a lot of space that you could otherwise be using for preparation. This is especially problematic with appliances you may not use all that much, like an Instant Pot. Cabinet inserts on sliding tracks are fairly easy to install as well, but there are many parts involved. Because of this, you may want to consider hiring Virginia Beach professionals to take care of the job for you.
Custom Utensil Drawer
Quite a few items are common on
countertops
, and you may not even consider any other place to put them. Knives, spatulas, and other
kitchen utensils
are commonly kept in racks or containers on the
countertop
next to the cooking area for
easy access
. While this may be convenient in many cases, every object on the
countertop
should be considered for movement to maximize space as much as possible.
With utensils specifically, narrow
kitchen drawers
may be ideal. These are drawers that are tall and skinny rather than horizontally oriented, allowing you to fit a lot of utensils inside vertically. Given that they're in a drawer that pulls out, they're all easily accessible, including the ones located in the back of the drawer. Often, these drawers are outfitted with cup-like containers, allowing your
kitchen tools
to stand upright for
easy access
. You may also want to integrate a pocket for long, flat items like
cutting boards
.
Tuck Away Small Appliances
Small appliances are easier to put away than you might think in a way that doesn't require you to unplug them all and tuck them away in the
pantry organization
. Instead, you can outfit your kitchen with a slide-out tray that houses small appliances like coffee makers and toasters. With this kind of setup, you can
pull out
the tray when needed for breakfast in the morning and simply push it back inside the wall when you are finished.
Paper towels
can also be stored in these tucked-away spaces.
When the tray is put away with the appliances on top of it, you'll have a lot more
counter space
available that could come in handy when it's time to cook dinner. Most of the time, these tucked-away small appliances are located right next to the stove, so that extra bit of
counter space
can be particularly convenient if you're looking to do a lot of preparation. Keep in mind that this strategy is often used for appliances that you find yourself using regularly. Removing often-used appliances to clear
counter space
can be inconvenient, but a slide-out tray makes them accessible while freeing up space.
Toe-Kick Drawers for Hidden Extra Storage
When expanding your storage, you may consider building up for that extra bit of shelf space that you need a step stool to reach. Don't forget to expand bottom shelving too, even if you need space for a
junk drawer
or
dry goods
. Specifically, make use of drawers that are set directly above the floor at the bottom of your cabinets. There's even room for these kinds of drawers beneath your oven in most cases, so make sure to take advantage when you can.
Toe-kick drawers make it easy to access the items in them, as all it takes to open them is a simple press with your toe. The mechanics of these drawers are fairly easy to set up as well, so you could even
DIY
the process if you like. Still, you would likely benefit from having a professional outfit your kitchen with toe-kick drawers to ensure functionality and reliability.
These drawers can be used for a variety of storage options, but they are most commonly used for baking supplies. Specifically, people tend to store baking sheets, molds, and other kinds of trays in their toe-kick drawers because these kinds of items tend to be wide and easily
stackable
, which makes them perfect for horizontally aligned drawers at the bottom of your setup. 
Hidden Storage Behind Your Backsplash
Your backsplash can be one of the most iconic aspects of your kitchen. While it is primarily used to protect the wall behind your cooking space, aesthetic design choices can truly take it to the next level. In terms of storage, you can implement hidden compartments that can house your items while still appearing flush with the rest of the backsplash when closed. Plus, the additional sophistication of this add-on to your kitchen can make the entire room feel more refined.
Many people use hidden backsplash storage for items like spices and cooking oils, making them easily accessible directly from the cooktop. Of course, you can implement a hidden backsplash for whatever you like, though storing cooking items here that you use the most may offer the most convenience. Keep in mind that the shelving hidden behind a backsplash doesn't run very deep, so it's best used for smaller items like
coffee mugs
and
mason jars
or items that can easily be oriented vertically, like unopened
condiment
dispensers
.
When you have hidden storage behind your backsplash, you can use it as an opportunity to upgrade your kitchen's aesthetics, too. The shelves themselves can be a complementary color, or you can color the hidden shelving to completely blend in with the backsplash design. For the most part, it's a matter of how much contrast you want in your kitchen's overall appearance.
Appliance Lifts
No matter how easy it is to reach a stored appliance, you still have to go through the trouble of lifting it and orienting it on the
countertop
where you like for as long as you're using it. With appliance lifts, however, this is taken care of for you, bringing an entirely new level of convenience to your kitchen experience. 
An appliance lift is a platform your appliance rests on that can be brought up from storage to your
counter space
. It works by being connected to metal braces and a spring system that connects the platform to the inside of your cabinet. When you need to access your appliance, simply open the
cabinet door
and pull the platform toward you until it clicks. Once you hear the click, it is locked in place, and your appliance is safe to use at the same height as your
countertop
.
Cleaning up your space after you're finished is easy with appliance lifts too. If you opt for a high-quality spring lift, all you have to do is give it a small push downward once finished. Then, it will slowly put itself back into place safely tucked away in the cabinet with your appliance still on top. This level of convenience makes using heavier appliances and maintaining your
counter space
easier than ever before. Remember, optimization isn't necessarily about getting rid of appliances you don't use that often. It's more about making the most of the space you have. Even a
trash can
can be implemented in a cabinet this way.
Built-in
Spice Rack
Storage space
can be added to your kitchen in more places than you might think. Just because you have a wall in a certain place doesn't mean you can hollow out that wall a bit to create small shelving. While small shelving may not be all that useful for dishware and cooking trays, it can be the perfect place to store your spices.
Having rotating
spice racks
on a
lazy Susan
can be convenient, but they do take up more
counter space
than you might think. By implementing your spices into rows on shelves cut into the wall next to your cooking space, they're all easily accessible while leaving more room on the counter for preparation. All you need most of the time is about a 4-inch-deep recess to store your spices while keeping them within reach from behind the range. The exact height of the shelving can be customized to accommodate your spice jars. Rails can also be added to ensure that no spices accidentally fall out.
Add a Shelf for Cookbooks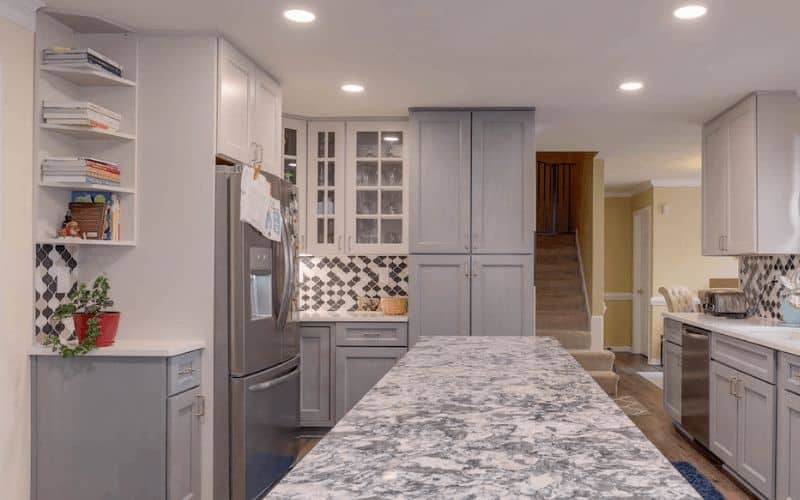 If you use your kitchen frequently, cookbooks are probably a common
trend
in the space in addition to
cookware
. Having a dedicated shelf for cookbooks could be perfect if you cook frequently or are looking to branch out and try new recipes. Fortunately, putting a bookshelf in the kitchen isn't all that different from putting one elsewhere in your home. 
The most important aspect of any kitchen is that it is designed around what you expect to use it for. Making sure you have room for cookbooks is a great way to put everything you need to
read
within arm's reach. With all the
storage space
you're saving by implementing other
organization tips
, it should be fairly easy to create a space for your cookbooks. With a single shelf dedicated to these books, you can keep them out of the way while making them easily accessible.
If you need assistance upgrading your Virginia Beach kitchen's storage, call JB Design & Remodeling for a consultation.
Install Appliances in Your Kitchen Island
If you can't fit all your appliances into your cabinets, you may want to consider integrating them into your kitchen island instead as a
space saver
. Many kitchen islands include a sink with
cleaning supplies
underneath, but that's only the beginning of your available options. A stovetop can be a useful addition to your kitchen island as well. With the stove on your island, you can look out into the living room or toward a television instead of facing a backsplash. 
Kitchen sinks
on an island often pair well with dishwashers because they tend to use the same plumbing. Plus, placing dirty items in the dishwasher is easiest when the sink and dishwasher are located right next to each other. Just keep in mind how much space is between your island and your
countertops
along the wall to ensure that your dishwasher has plenty of room to open.
To add an extra touch of sophistication to your kitchen island, consider adding a wine fridge. This small fridge could house all of your special drinks and be outfitted with tight
wine racks
that are perfect for fragile bottles. Just remember that any kind of fridge will need to be properly ventilated, so leave more room around it than you might think you need when planning the design.
Built-In Feeding Space for Pet Bowls
Drawers situated directly above the floor can be a perfect place to store pet bowls and can even double as a feeding station. The bowls in the drawer will be low enough for them to be easily accessible for your furry friends, which makes giving them their dinner easier than ever. 
To maximize convenience, a lot of kitchen designs that incorporate this
storage idea
implement large vertical cabinets next to the pet bowl drawer. These are used for pet
food storage
in
storage containers
, whether it's dry food or wet food in stacked cans. With everything you need in a single location, you won't have to go far to offer your pets everything they need for their favorite part of the day. 
Adjustable
Drawer Dividers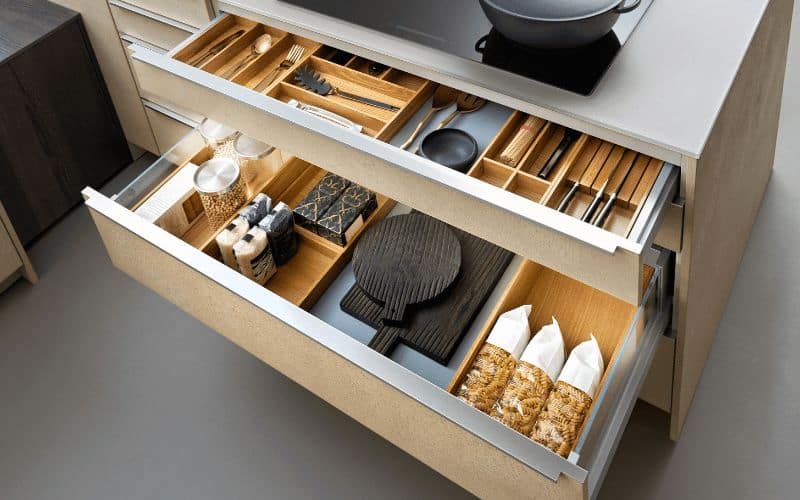 When you find yourself running short on drawers for particular items, you can always split your drawers up using dividers. These are simple
drawer organizer
inserts that can separate your drawer space into varied sections. For example, if you have a deep drawer that's used to store your pots and pans, you may want to insert a divider near the end to create a space solely for lids to keep them separated from the
pot rack
while still being easily accessible. 
Dividers are probably already used for your
silverware
drawer, but you can expand that to all of your utensils if you keep them in a drawer. Even spices can be neatly organized using adjustable
drawer dividers
, letting you customize your organization as you see fit. With the way drawers and dividers are designed to fit together, you can even move the divider if you need to make adjustments later. Plus, these dividers can be remarkably affordable, with some even available at a
dollar store
like
Dollar Tree
.
Your Kitchen, Your Way
These are just a few tips to help keep your kitchen organized. If you are looking to take your
kitchen storage ideas
to the next level, the experts at JB Design & Remodeling are happy to help. We can not only get your new kitchen constructed, but our attentive design team will work with you to craft the kitchen of your dreams that not only prioritizes organization but also aesthetics and functionality. Give us a call at 757-517-2222 or fill out our
online contact form
to get started on building the ultimate kitchen. We happily serve homeowners in the Hampton Roads region.